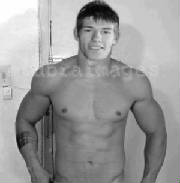 Profile:
Name: Dan Hardy
D.O.B: 26/05/1985

Racing Number: #22
Occupation: Teaching Assistant

Height: 6ft 3''

Weight: 13 stone (80kg)

Machine: 1980 Maico 400cc

Class: Under 27's / Intermediate
Racewear: Fox Racing
Rider History:
Dan has had rider status at the Yorkshire Twin-Shock Club for four years now. He started as a complete novice in the clubman class in 2002 and initially struggled for results but after switching onto his current machine, Maico 400, we have seen Dan improve ten fold and this was evident in his 5th place in the overall standings in the 05 Clubman championship. 2005 however started a bit slower than Dan had wanted initially with a poor showing in his home race at grange moor. This poor form looked likely to continue at the Lancishire event but a very promising ride in the last race suggested that Dan could quite possibly have a ligitimate chance at some good results as the year progressed. Unfortunatley that particular race ended as a DNF after Dan had climbed to a podium place after a back of the pack start. This theme continued throughout the year in what was a very see-saw campaign results wise. Climpses of Dan's potential shone through at rounds like Armthorpe and particulary Pontrillias but ultimatley silly mistakes and crashes would continue to hamper his progress. It wasnt untill the penultimate round at 'The Butts' where Dan strung three good races together but even after taking 2nd overall on the day and competing in some intense battles with eventual Clubman Champion Gavin Baldwin, Dan and the Y.T.S club were still left with a feeling of could have been better after throwing away a good 30 second lead in the first race. A tentative ride behind Baldwin and Jamie Lawrence in the 2nd race for 3rd was followed by another holeshot and breakaway lead in the 3rd race only for the race to be black flagged. A second from the re-run race was far from dissapointing however.
2006 will see Dan make the jump from the clubman class to the brand new Under 27's Championship where he will be competeing against the likes of Tommy Holland, Freddy Davis, the colossal Jamie Lawrence and class favorite, reigning clubman champion Gavin Baldwin. I'm sure Dan fancies his chances however and with an improved training scheduel we do too!